SAVE THE DATE – Webinar IRIS Business Services 14 dicembre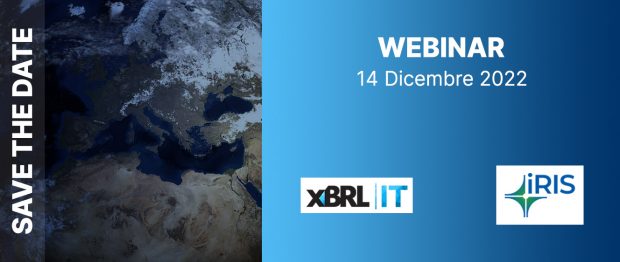 IRIS Business Services è una multinazionale indiana specializzata nella realizzazione di soluzioni XBRL, che da qualche settimana XBRL Italia ha l'onore di annoverare tra i propri associati. In collaborazione con XBRL Italia, IRIS ha organizzato per il 14 dicembre un webinar sulle esperienze di block tagging della nota integrativa e su uno studio di comparabilità dei bilanci ESEF depositati in Europa nel corso del 2022. Il webinar sarà un'occasione per analizzare le esperienze di emittenti europee, clienti di IRIS, che hanno già taggato la nota integrativa, e per verificare gli impatti a livello europeo sulla effettiva possibilità di confrontare i bilanci taggati dalle società europee.
XBRL ITALIA – IRIS BUSINESS
ESEF: QUALITA' DEI DATI E TAGGATURA A BLOCCHI DELLA NOTA INTEGRATIVA
14 Dicembre 2022
Programma provvisorio
09:55 – 10:00
Introduzione di XBRL Italia
Stefano Pighini / Eugenio Virguti
10:00 – 10:20
ESEF 2021 e qualità dei dati: le lezioni del primo anno dei bilanci ESEF
Winfried Renner (IRIS Business)

10:20 – 10:35
Come utilizzare i dati dei bilanci ESEF anche ai fini della comparabilità
Winfried Renner (IRIS Business)

10:35 – 10:50
La taggatura a blocchi multi-livello della nota integrativa: esempi e illustrazioni pratiche
Winfried Renner (IRIS Business)
10:50 – 11:00
Domande e risposte
11:00
Chiusura dei lavori
Eugenio Virguti
Organizzato da: XBRL Italia
Sponsor: IRIS BUSINESS
Moderatore: Eugenio Virguti
---
IRIS Business Services is an Indian multinational organization specializing in XBRL-base software solutions that XBRL Italia is honoured to have as one of its valued members. together with XBRL Italia, IRIS organized a webinar on December 14th on the block tagging exercise of financial statements of ESEF issuers and a comparability analysis of ESEF financial statements filed filed in Europe in 2022. The webinar will offer a chance to review examples of block-tagging exercises already conducted by IRIS's clients across Europe and will also provide an overview on the actual comparability of ESEF-tagged financial statements filed this year.
XBRL ITALIA – IRIS BUSINESS
ESEF DATA QUALITY & TEXT BLOCK TAGGING
14th of December, 2022
Draft Agenda
09:55 – 10:00
Opening words by XBRL Italia
Stefano Pighini / Eugenio Virguti
10:00 – 10:20
ESEF 2021 Quality Analysis and lessons learnt
Winfried Renner (IRIS Business)
10:20 – 10:35
How ESEF data can be leveraged for peer comparison and more
Winfried Renner (IRIS Business)

10:35 – 10:50
Multi-level text block tagging of notes with practical illustrations
Winfried Renner (IRIS Business)

10:50 – 11:00
Questions and Answers
11:00
Conclusions by Eugenio Virguti XBRL ITALIA
Hosted by XBRL Italia
Sponsored by IRIS BUSINESS
Moderated by: Eugenio Virguti